Texas Police Open Deadly Fire on Middle School Boy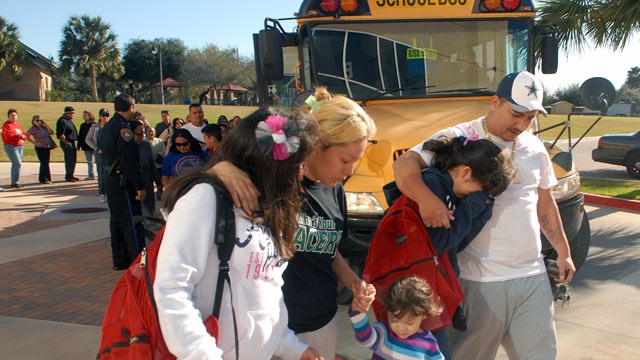 On Wednesday, 15-year-old Jaime Gonzalez, a student at Cummings Middle School in Browning, Texas was fatally shot by policemen who thought he branded a weapon.  It turned out to only be a pellet gun though, but it looked like the real thing.  Now these police officers are defending their actions to the community.
The boy's father, Jaime Gonzalez Sr., wants to know why so much excess force got used on a minor.  According to the law, if the perpetrator appears to not only be wielding a weapon but threatening innocent victims around him, then the police have the unfortunate task of using deadly force to take that threat down before anyone gets hurt.
Three shots were used to take down the young man, including one to the back of the head.  Jaime's mother now has photos of the tragedy on her phone to show of the injustice she believes took place against her son.  Along with those photos she also has one of her son in his drumming uniform, a stark contrast of the life and vitality he held before he was killed that day.
Interim Police Chief Orlando Rodriguez's defense is that Jaime kept pointing the gun at him and his officers and that the child had more than enough opportunities to relinquish his weapon but did not take them.  They had a right to protect themselves and other students' lives.
Before the confrontation occurred Jaime had walked into a classroom and punched another student in the face for no apparent reason.  Police believe his move to pull out the gun after that became a ploy for attention.
The shooting happened during the school's first period, at which time upon hearing the confrontation, teachers locked their classroom doors, turned off the lights, and students hid under their desks in terror.
It is still unknown why a kid like Jaime Gonzalez did what he did.  His parents had spent time with him the night before the incident and nothing seemed amiss.  He was a good student and a help around his neighborhood, mowing people's lawns and fixing other kids' bikes.  They don't even know where the gun came from.  That same night of the incident many of his friends gathered outside his house to pay their respects and let his parents know how much he will be missed.